Saving the northern white rhinos isn't just about species conservation, it's about safeguarding wild species for future generations. We, therefore, remain committed to saving this species no matter how long it takes.
We want to raise £0.5m ($0.8m) to develop the IVF techniques needed for a new generation of northern white rhino to be born.
GoFundMe will make currency conversions or you can use our  USD Paypal account here.  For press enquiries, please contact elodie.sampere@olpejetaconservancy.org , +254 727 341 612
or jan.stejskal@zoodvurkralove.cz , +420 608 009 072
On Monday, July 27th Nabiré, a female northern white rhino at Dvůr Králové Zoo in the Czech Republic passed away. With the sad and recent deaths of Suni and  Angalifu since the end of 2014, there are now just four northern white rhino left in the world.  It could be the end of a species.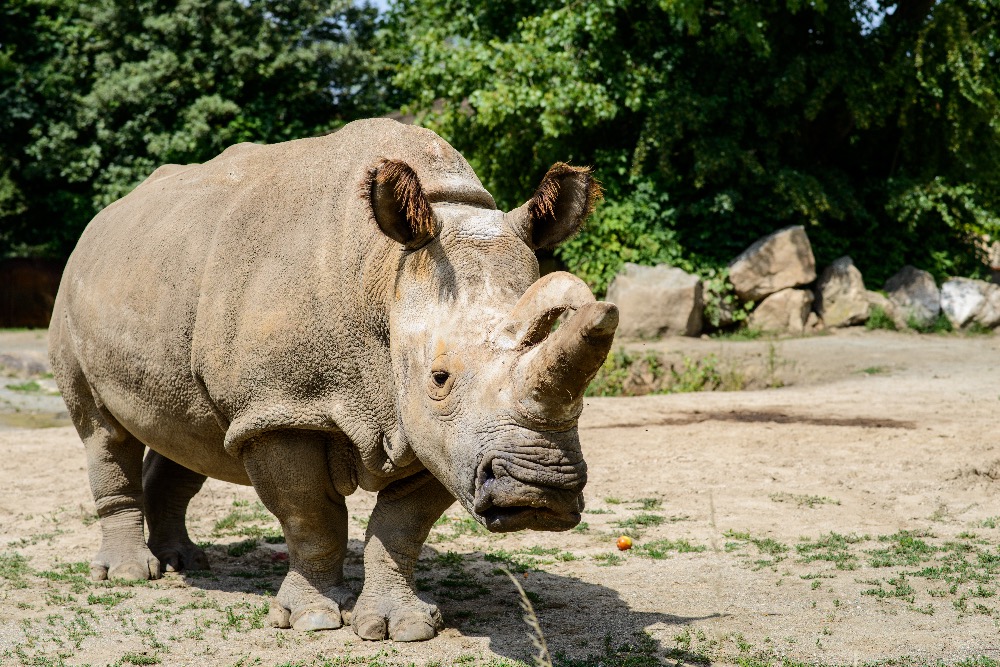 Credit: Khalil Baalbaki/ZOO Dvur Kralove

Sudan (named after his birth-place but living in Ol Pejeta Conservancy, Kenya) is the last northern white male in existence, and at 42 is in advanced old age for a rhino.  The chances of him successfully mating are close to zero.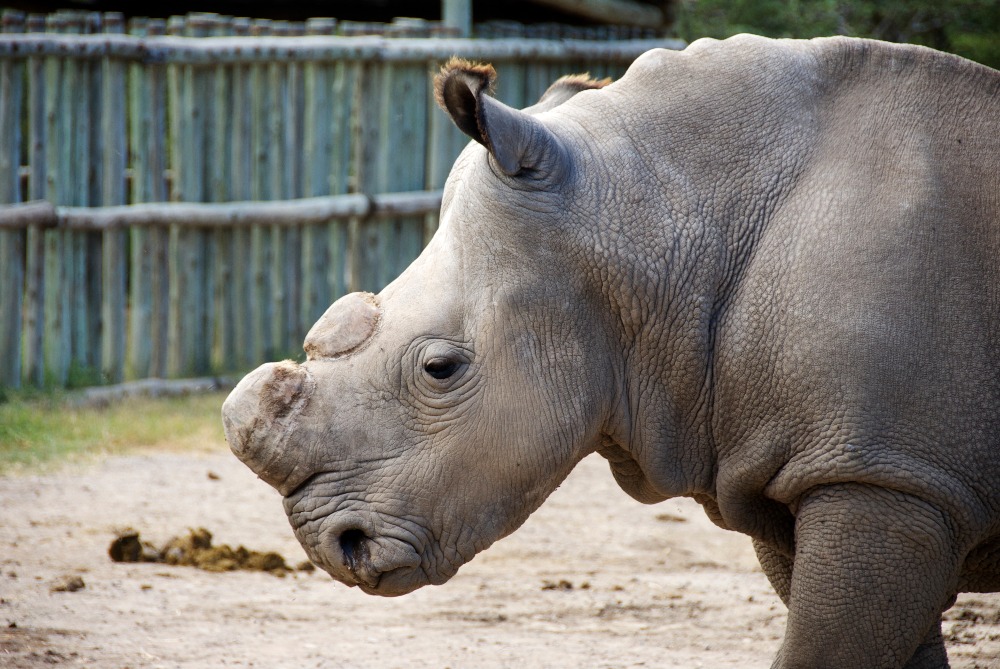 Credit: Ian Aitken
The only hope now is to develop assisted methods of reproduction to allow new northern white rhino calves to be born.  Given the age and reproductive health issues that affect the remaining females, we are exploring in vitro fertilization and an embryo transfer. We aim to combine eggs from the remaining females with stored northern white sperm to create embryos that can be carried by surrogate southern white females.
This has never been successfully carried out with rhinos before.  It will be costly – we are working towards £0.5m (approx. $0.8m).  It could take 12-36 months of research to develop the new techniques required. There are no guarantees of success.  But if we are successful, we will save a species.
You might well ask:  "Why bother?" or "Most species have gone extinct over time, what's the problem?" or  "Couldn't this money be better spent on other threatened species, including black rhino?"
We wish we could give you the ultimate answer but beyond sheer, inspirational beauty, the maintenance of global biodiversity and the chance to see wild rhinos roaming free in central Africa at some stage in the future, we can't.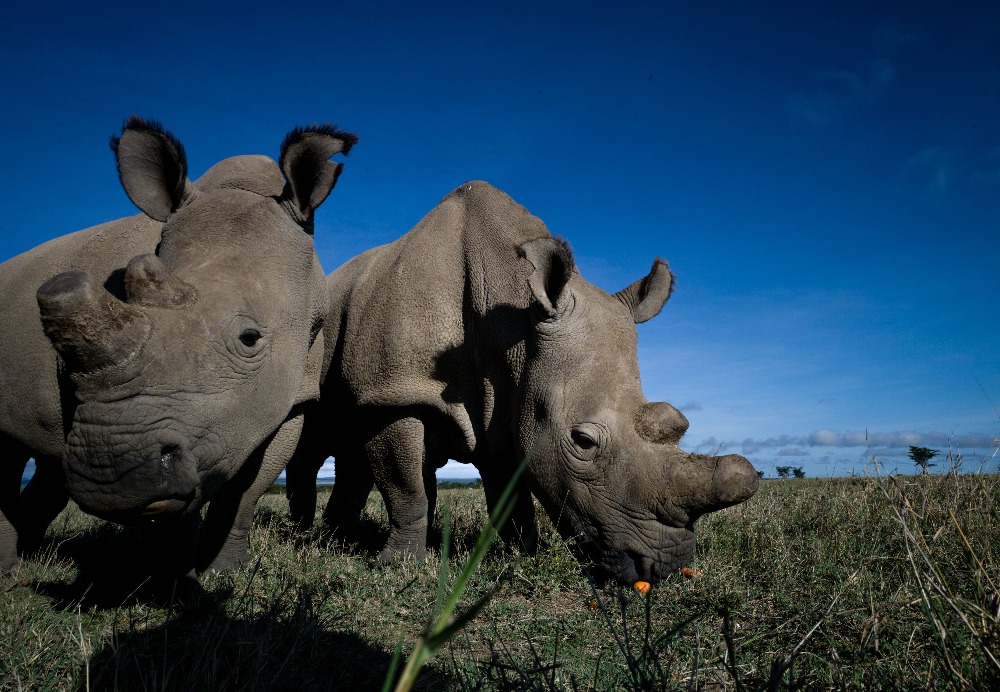 Credit: Erico Hiller
However, when you consider the value of this magnificent species please consider:
£0.5m (approx. $0.8m) to save a species for now, for your children and for your children's children…
Versus the same amount to buy…
16 m2 of real estate in Monaco (172 square foot), or
62,500 space hoppers, or
One Lamborghini, or
43 Methuselah bottles of 1990 Cristal Brut Millennium cuvée , or
5 and a bit, Supercharged Range Rover SVR Sports, or
Half of an Xten, Pininfarina designed office chair
Please see foot of this page for links to sources.
Feel free to share in your comments any more crazy comparisons as to how £0.5m ($0.8m) could be spent compared to saving a species.
Please contribute and help us make a new baby northern white rhino. Any and all funds raised here will go directly to the northern white rhino programme.
For more information please contact Richard Vigne, CEO of Ol Pejeta Conservancy, or Jan Stejskal, Director of International Projects at Dvur Kralove Zoo, by simply posting a message to this Go Fund Me page.
——-
Important information:
There is no guarantee of success.  We could spend this money and fail.  But we hope that you will agree that it is worth trying.
Even if we do succeed it could take us much, much longer than the time frames we are hoping for as outlined above.
We estimate that we need to raise £0.5m (approx. $0.8m) before fees to make this work but we could be wrong – we could need more and would continue fundraising.
Should any funds remain after success or failure, then the committee set up to safeguard the northern white future will reinvest those monies into protecting the world's remaining rhino species.
The northern white rhino programme is administered by a committee comprised of the Kenya Wildlife Service, the Ol Pejeta Conservancy in Kenya, Dvur Kralove Zoo and the Ministry of Environment in the Czech Republic, and Back to Africa with support from Fauna and Flora International and the Lewa Wildlife Conservancy.
The northern white rhino is technically recognised as a subspecies by IUCN AfRSG. For simplicity we have chosen to communicate this campaign under the banner of 'Save a Species' in recognition that northern white rhino genetics are uniquely adapted to their habitats and are subsequently irreplaceable and we believe invaluable.
This campaign has been set up by Robert Breare and Jan Stejskal. Robert is Chief Operating Officer of Ol Pejeta Conservancy, home to three of the last four northern white rhino. Jan is Director of International Projects at Dvur Kralove Zoo, owner of all four remaining northern white rhinos. Their identity can be confirmed by checking out LinkedIn here  and here  or staff pages on OPC  or DK Zoo website .  GoFundMe also runs extensive verification checks.
Sources:
Banner image: Credit Jan Stejskal
http://www.gofundme.com/makearhino
Square Metre Prices- Monaco Compared to Continet
How would you change the world with half a million pounds?
10 Irresponsible Ways To Spend $1 Million In One Day
Landrover UK Pricing and Specifications $1.5 Million