"I don't appreciate a hassle-free travel experience", said no one ever!  The  modern day traveller prefers to have everything under control before embarking on their trip. Long gone are the days of  having awkward conversations with strangers trying to get some words translated or having to test your geography skills, burying your face in a map to help you negotiate your way around the streets of Nairobi.
Travellers today appreciate that being digital-savvy goes along way to giving you convinience, ease and saves you plenty of time whilst on your globe-trotting adventures whether travelling for business or leisure. Google is aware of this too; They are aware that you like to prebook your  hotel room, counter check your travel details, and prepare your itinerary before you even leave home. It is by this virtue that they are constantly at work to provide you with a 'personal assistant' designed to make your travels smoother, cheaper and plenty fun.
Having google app in your pocket guarantees that you stay organized, on time, up-do-date with events and on budget wherever you go.
Prepare for Takeoff – Google Flights
There's a good chance you're going to fly and if you need an assistant to do the heavy lifting for you, Google Flights is at your service. Google Flights lets you quickly find and compare flights between airports on certain days.  Not sure where you want to go? worry not, google flights has you covered…with the popular destinations feature, you will definitely have an idea or two of new destinations to exlore.
Or maybe you're interested in visiting a certain region or country, but aren't sure what airport to fly into or cities to visit. Google Flights has an answer for that as well.
Instead of entering a specific airport as a destination, selecting a  country or region shows you a map highlighting the major airports in the specific regions and how much it costs to fly there. If you zoom in, you can also see small regional airports. You could even narrow down the suggestions based on your interests like culture, safari, restaurants, etc.
You can see prices for your trip on every day of the month, with the cheapest days highlighted in green. A bar graph at the bottom lets you know how prices will likely drop or rise over time.
Come rain or shine?!
It's definitely wise to check on how the weather looks like at your destination lest you pack and prepare for activities that are not catered for by the current climatic conditions.
Google provides you with an intuitive app offering weather reports for well over two million geographical locations, feeding in everything from cloud formations and atmospheric pressure to wind speed and humidity. It's also accurate to the point of clairvoyance, so if  it predicts rain, pack your umbrella please.
What's so cool is that you don't have to feed the app your location…It automatically detects your new location, providing you with the areas weather conditions.
Road Trippers, this especially comes in handy for you. Google app helps you track the weather along your road trip. You are now able to know what the weather will look like in the counties you'll be going through and at what time, and more so where you can stop if the conditions get too bad.
Know what to wear with daily weather forecasts for your current location, work location, and travel destinations.
Translate s'il vous plait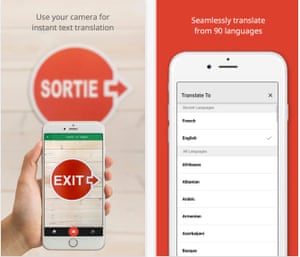 This translator can be a useful tool to support your own, more serious language learning, but realistically, it's most useful on a practical level quickly translating day-to-day words you come across on your travels. Particularly intriguing is the Word Lens tool, whereby you point your camera at a text– such as a sign, or a menu – and Google will translate it for you instantly. It's an essential app for any traveller.
Have you Reserved?
Get one-touch navigation to your hotel when you arrive in a new city.  Google App also provides updates to restaurant and hotel reservations received in Gmail.
Currency Exchange
Don't bother paying up for one of the many currency conversion apps out there – this freebie is slick, easy to use, and – best of all, since it uses live currency rates – completely accurate.
Let's take a walk…
Google App has added a pedometer to its website that tell you how much you have walked, cycled or travelled in a month. You can also swipe cards away when you no more need them.
Could you direct me to…

I can't even imagine driving without Google Maps. Its a real time-saver detecting delays up ahead, such as traffic, accidents, or construction. The app automatically offers a quicker route. It's a great in-car GPS navigation system, right from your phone.
Other cool features:
Set reminders: Get reminded of your scheduled meetings. Just set reminders for any meetings and events on your calendar and Google App will remind you before it's late.
Voice instructions: How cool is it that you don't have to type instructions anymore, Google app takes instructions from you: ask it to call someone, what time is your meeting, ask for voice directions and so on and it's done! you get an answer in natural language. Simply say 'Ok Google' or tap the microphone icon to begin.
Sports: If you are a sports fan and cannot watch the match, Google App is here to help. Add the team you wish to follow under customise option of the Google App and it will constantly update you on match dates, scores and so on.
Stories to read: Are there any stories you need to catch up on?
Get to work on time: Once you enter your office address in its settings, it will automatically suggest you the shortest route to the destination. The App keeps tabs on the time when you usually leave for the office and after a while automatically starts reminding you, based on the traffic conditions, when the right time to leave for the office is. So cool right?
Stay up to date on movies, books, and TV shows: When you search for a movie, book, TV show, music artist, or video game on Google, it'll remember—and give you information about it in Google App. You can even tell Google to remind you about upcoming episodes, so you know when your favorite shows start. how about that?
Keep up with the trends: This card shows you the most trending topics on Google for the day. The topics are figured out on the basis of what interests you, which in turn is figured out on the basis of what you search more on Google.
How to get started: If you let the Google App learn about you and your habits, then it can throw up information that it thinks you might be interested in. News, sports scores, weather, and traffic information is served up in real time based on your previous movements and searches. Information is served up in the form of cards, which you can tap for more detail or swipe away to ignore. What's even more interesting, Google App can give you what you want before you even know you want it.
With such cool features, I'd be amazed if you still complain of travel inconviniences. Planning your vacation just got plenty easier with your own google "personal assistant"… you can thank me later!
• Free, iOS and Android
Save
Save
Save
Save
Save
Save
Save