National Museums of Kenya and The Murumbi Trust presents an exhibition of artworks by nine acclaimed women of East Africa, titled "Pioneer Women of the Arts." The exhibition which launches on Sunday, September 9 at 2:00pm, at the Nairobi Gallery in Nairobi, Kenya led by AMB. Amina C Mohamed, EGH, Cabinet Secretary for Education, will highlight works from legendary East African artists; Margaret Trowell, Joy Adamson, Magdalene Odundo, Rosemary Karuga, Geraldine Robarts, Robin Anderson, Yony Wai-Te, Nani Croze, and Theresa Musoke. The exhibition will be open through to December 8, 2018. 
Attendees of the opening ceremony should expect a thrilling performance by PAPILLON, a young Kenyan musician and protégé of the world-famous Kenyan musician Ayub Ogada. PAPILLON creates his own instruments inspired by African instruments thousands of years old and writes his own music in an effort to preserve authentic Kenyan music not influenced by Western rap and hip hop. PAPILLON follows in the footsteps of Kenya's African Heritage Festival, founded by Alan Donovan, which travels the world with its cast of models, musicians, acrobats, stilt walkers, hair dressers, chefs and others.
Each artist showcased in "Pioneer Women of the Arts" was selected based on the various paths that have paved their existence in the art realm, and their earned acclaim through their unique struggle. These female artists have generated a significant impact on the art and culture of East Africa.
Trowell, with her six books and art school at the prestigious Makerere University in Uganda, which was the best in the region – and perhaps all of Africa, is undoubtedly an influential pioneer artist and teacher to whom all artists in East Africa owe a debt. Her main goal in creating art, Trowell said, was to "make it plain that art is of the people and natural to the people."
Adamson, conceivably best known for her children's books and later TV series "Born Free," has also had a tremendous impact on the preservation of African culture. Throughout her travels, Adamson realized that she must paint the people of Kenya in their many tribal dresses before they were abandoned for Western wear and imports. She spent six and a half years living in all parts of Kenya during this pursuit after the Kenyan Government commissioned her to make a comprehensive record of all the traditional dress and ornaments of the people of Kenya.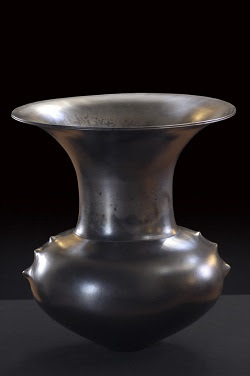 Odundo holds the highest position in international arts of any East African, as Chancellor of the University of Creative Arts in the UK. She has received an OBE by the Queen of England for her service to the arts, and has achieved international acclaim for her ceramic and glass works, which have been collected in museums globally. Odundo is known for being one of the world's greatest contemporary potters.
Karuga was the first woman to attend the prestigious Makerere University School of Fine Arts. She has exhibited her works with the leading artists of the continent and has been a mentor to world-renowned ceramicist Magdalene Odundo. Karuga pioneered a unique form of collage using local materials, and was eventually given a Lifetime Achievement Award for her contributions to the art world.
Robarts has lifelong experience as a painter and University Lecturer in Fine Arts, including Makerere University and Kenyatta University. She is always pushing the boundaries of what paint, color, and new materials can achieve, and loves exploring the world to bring her inimitable style to her creations. Robarts is also a prominent worker with grassroots women's groups in Kenya and has worked to bring art, health, and economic opportunities to communities who had previously struggled to survive.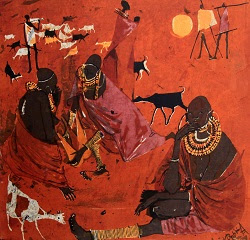 Anderson has made a lasting impact on the art world of East Africa, perhaps most famously as the co-founder of the leading East African contemporary art gallery, Gallery Watatu, which served as a platform for serious contemporary art in East Africa with recurrent exhibitions by leading artists. Inspired by the people and wildlife of Kenya, Anderson was a forerunner for what became a burgeoning industry of batiks in South Africa with her elegant batiks on silk.
Wai-Te is most famous for co-founding the first major contemporary art gallery in East Africa, Gallery Watatu, which has become the leading contemporary art gallery in the region. Her wildebeest and wildlife paintings populate hotels and public buildings throughout East Africa and have gained her an international following and reputation synonymous with the safari style of the region. Through her Wildebeests Workshops, Wai-Te has worked and trained many East African women's groups and artists.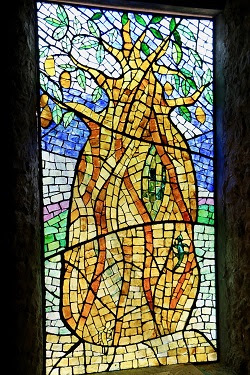 Croze, as an artist, educator, and environmentalist, has brought another dimension to  the art of East Africa. Founder of the Kitengela Glass Research and Training Trust, a center for recycling used glass into art, Croze has conducted numerous glass training workshops for young women from Kibera slums creating glass beads, pottery, and mosaics. Her monumental stained-glass and recycled glass works appear in numerous public spaces, including the courtyard and entry of the National Museums of Kenya.
Musoke was one of the first women to obtain a degree from Makerere University at a time when very few African women were attending University. Her distinctive works romanticizing wildlife in a moody mixture of abstract batik and oil paintings have won Musoke great acclaim. She also taught art at Makerere and other leading art institutions in East Africa.
To learn more about "Pioneer Women of the Arts," please visit:
https://africanheritagehouse.info/exhibition-pioneer-women-of-the-arts/.
---
About National Museums of Kenya
National Museums of Kenya (NMK) is a state corporation established by an Act of Parliament, the Museums and Heritage Act 2006. NMK is a multi-disciplinary institution whose role is to collect, preserve, study, document and present Kenya's past and present cultural and natural heritage. This is for the purposes of enhancing knowledge, appreciation, respect and sustainable utilization of these resources for the benefit of Kenya and the world, for now and posterity. NMK's mutual concern for the welfare of mankind and the conservation of the biological diversity of the East African region and that of the entire planet demands success in such efforts. In addition, NMK manages many Regional Museums, Sites and Monuments of national and international importance alongside priceless collections of Kenya's living cultural and natural heritage. As an institution that must respond to the growing needs of the society, NMK is striving to contribute in a unique way to the task of national development.
About The Murumbi Trust
The Murumbi Trust was established by Alan Donovan in 2003 to protect and preserve the art collection of Kenya's second Vice President and famous art collector, Joseph Murumbi. As the continent's greatest private collector of art, books, postage stamps, artifacts, textiles, jewelry, and everything African, Murumbi played a key role in the preservation of African heritage in Kenya. In 1972, he opened the continent's first Pan African Gallery, with his wife Sheila and Alan Donovan, now the present Chairman of the Murumbi Trust. The gallery became and has remained a showcase of African culture and the largest organized supplier of arts and crafts from Africa to the rest of the world for over three decades.
About Alan Donovan
Alan Donovan, co-founder of African Heritage Pan African Gallery in Nairobi and founder of African Heritage House, has been showing works by Pioneer artists of Africa for the past 5 years. Currently, Donovan hosts a Nigerian Festival that has been featured in several venues of Nairobi over the past year. The festival celebrates the 50th Anniversary of artwork from Oshogbo Nigeria and coincides with Donovan's 50 years living in Africa, having arrived in Nigeria in 1967. He bought his first work of African contemporary art at Oshogbo in 1967 and has since worked closely with Nike Davies-Okundaye who is reviving the age-old textile arts of Nigeria. She opened Donovan's present exhibition which features her handmade ADIRE indigo dyed textiles. Nike Davies-Okundaye now owns NIKE gallery in Lagos, the largest in Nigeria, and was recently featured by Richard Quest on CNN.